Construction Claims and Accidents
Construction claims typically arise due to some contractual dispute involving payments or monetary penalties. Based on my 30 years of experience in reviewing contracts I have found that in a majority of cases, these issues arise because of differences in interpretation of the contract documents, and or field conditions that require modification of the original documents. I have been involved in cases regarding apportionment of responsibility between contractors and subcontractors, and the consistency of field changes within the original scope of the contract documents.
Construction accidents involve worker injuries or damage to property during construction, . In my experience, property damage cases can originate from improper design, failure to follow plans and specifications, and often by a failure to temporarily and adequately brace the work as construction progresses. Typically, worker injuries result from a failure to follow well documented safety procedures either by the employer or the employee. Overall safety on the job site is controlled by employers through contractual obligations between the contractors and subcontractors, and sometimes owners. OSHA has promulgated guidelines for multi-employer worksites, and these guidelines are sometimes made part of the original contract.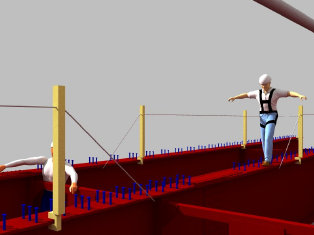 This is a frame from an animation we created to show a worker being injured by a fall from a beam. The animation may be viewed by clicking on the frame. The issue in this case was a failure to wear FALL PROTECTION as required by OSHA regulations.